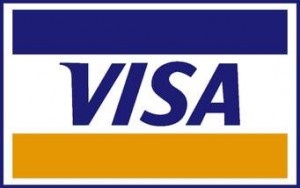 Use the card that is accepted everywhere. VISA! Whether it is an Acadian Federal Credit Union Visa Credit card or a Visa Check card,
you will be comforted to know that you have the protection, availability and power of Visa.
***New Fraud Prevention Service
In our continuing efforts to keep your accounts secure, we've improved our alert system for potential fraud.
Here's how it works:
When potential fraud is detected, you will receive a text alert or email alert from
Acadian Federal Credit Union, with the option if valid reply Y, if fraud reply N.
Remember – our messages will never ask for your PIN or account number.
*Contact us for the valid phone number.  If you add this number to your phone contacts and label it "Fraud Center-Acadian Federal," it will display whenever you get a call from this number.
Visa ATMDebit Card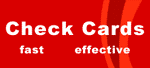 No Cash, No Checks, No Problem……
Apply for you CU Visa Check Card Today
We are excited to be able to offer to you the CU check card. No Cash, No Checks, No Problem. The check card works like a check. Use it to purchase goods and services as if you were writing a check. The purchase are deducted from your checking, and you will get a receipt for your records. Also each transaction will be detailed on your monthly statement. Use your Visa check card at millions of locations worldwide. If you don't have one, apply today!
To report a lost or stolen ATM/Debit card call 1-866-546-8273
Don't forget about Pulse Select/ Money Pass….You have the versatility of using several ATM locations around the Lafayette Area aside from the one at our location, with no service fee at that ATM. View the MoneyPass ATM Locator for more details and locations.
Visa Credit Card
With the protection from Visa and the low fixed rate from your credit union, how can you go wrong. There are so many confusing credit card offers out there that promise you low introductory rates, but when the introductory period is up the deal didn't turn out to be so Great! With Acadian Federal Credit Union's Visa Credit Card, we strive to give you the lowest rate and fees that we can possibly offer. Apply today and the annual fee for the first year is waived.
View our Visa Credit Card Agreement (PDF – new window/tab)

To report a lost or stolen Visa Credit Card, call: 1-800-991-4964

ezcardinfo makes your Acadian Federal Visa credit card easier
and more convenient than ever.
Access your balance, available credit, payment date, payment amount, transactions and even pay your bill online.
Sign up today! Don't have a Visa credit card with us? Apply for a Visa Credit Card!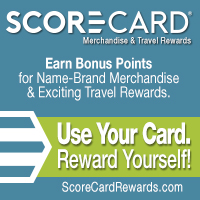 Reward yourself with Visa Scorecard!
For every new dollar you spend in purchases with your Acadian Federal Credit Union Visa credit card, you'll earn one Bonus Point. Accumulated points can then be redeemed for awards like appliances, jewelry, cookware and recreational equipment from Movado®, Toshiba®, General Electric®, and more.  If travel is more your style, redeem your points for airline tickets, car rentals, hotel stays, experience awards, cruises and more.  Watch your Visa credit card statement for your Bonus Points total, log into the Scorecard website at https://www.scorecardrewards.com, or log into EZ-card to view your rewards and shop!
Don't have an Acadian Federal Credit Union Visa Credit Card?
Apply today to start earning Bonus Points.
Visa Secure
Visa Secure adds an extra layer of security to make it harder for someone else to use your Visa card to shop online in the unfortunate event your Visa card or account number is lost or stolen.
When you shop online and see the Visa Secure badge on participating merchant sites, this means your online purchases are secured with Visa. Visa has developed a program that helps confirm your identity when you make an online purchase at participating merchant sites.
There's no need to download anything, install software or register. During an online purchase from your desktop, mobile or other digital device, you may be guided through an extra check to verify your identity.
Visa Secure Customer Service: 1-800-847-2911