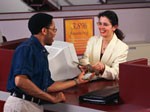 We offer a wide variety of services to meet your financial needs.
Our friendly staff are always more that happy to help
Money Orders
Travelers Express money orders are available through Acadian Federal up to $1,000.00 per money order. They are a safe and convenient way to pay bills or do other transactions. Stop by today and purchase a Travelers Express money order.
Cashiers/Certified Checks
For your convenience, Acadian Federal Credit Union offers Cashiers Checks for those times that you need a check payable to someone other than yourself. Can't make it into the credit union? Give our office a call and we can mail you a check from your account.
Bank by Mail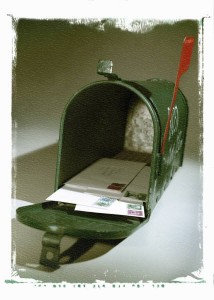 Acadian Federal Credit Union has members all over the United States.
To make it convenient for our members, we offer bank by mail, so that you can make payments,
or deposits into your account without actually being here. We can also mail you a check out of your account.
Gift Cards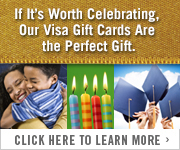 Gift Card Brochure (PDF – new/window/tab)

Need a gift for a birthday, anniversary, graduation, promotion or simply to say thanks?
Our Visa Gift Cards come in colorful designs to celebrate any special event.
These debit Cards can be used anywhere Visa is accepted worldwide, including
in-store, online and by phone. So they're more functional than a gift certificate
and safer than cash.